Gay-Mor's Blue Looney Meg Ryan2*D (photo at 3 yrs. old)
Meg earned her ADGA Superior Genetics designation at 13 yrs old!!
D.O.B. 10/30/1999
Deceased
Color: Sundgau with blue eyes
CAE-Neg. 2/08/12
2012 Linear Appraisal Score EEEE "91"
official measurement at Linear Apraisal 20 inches.
Show wins: GCH and BOB Northern Lights Goat Association Show June 16, 2007 Judge: Tom Considine
Meg will forever be my favorite Nigerian doe with her sweet personality and affection for me. She was an amazingly prolific doe. In her lifetime she had freshened 9 times producing a total of 25 offspring, mostly triplets, all blue eyed. At 13 yrs. old she was officially retired and lived out the rest of her life being pampered and appreciated. Below is a photo of Meg Ryan taken on Sept. 16, 2012 when she was Linear Appraised for the first time at 12yrs,11 months old. My appraiser was so glad Meg was in milk as he stated " I really want to be able to appraise this doe, thank you for bringing her." He went on to say she "excels in dairyness and would like to see more Nigerian dwarfs with the traits she has". Needless to say, we were very proud of our Meg. Truly a grand old girl and she knows it! Look at that smile!
The sad part is I have no sons or daughters from her at this time. We are also very exciting about the doe kid we will be getting soon from Logan Corn,
Tonto's Barn
We can't wait to get Tonto's Barn Reese's Puffs home! Her photo is located after the one of Meg Ryan below:
SS: 4 Fun Val's Twist of Lemon *S
SD: ARMCH Gay-Mors Magic Naiad 5*D 'E'
DS: Gay-Mors T Blue Looney Tunes *S
DD: Munchranch East Nellie Backata *D
One of Meg Ryan's sons:
Sugar Creek's PG Steven Seagal *S(AGS)
CH.AGS Sugar Creek's PG Steven Seagal(ADGA)
LA score EEE 90 excellent
Color: Sundgau/white overlay with blue eyes
D.O.B.: April 14, 2003
Litter: triplets (2 bucks/1 doe)
Pedigree:
Sire:
MCH/CH 4 FUN Gay-Mor Lemon Pot-O-Gold +*S E

Sire:
4 FUN Twist of Lemon *S
Sire:
4 FUN Valentino *S
Sire:
Stonewall's Palliser +*S VG AGS 86.8
Dam:
4 FUN Miss Scarlet 2*D VG
Dam:
ARMCH Stonewall's Hetta Carbury 2*D VG

Sire:
Gay-Mor Berry's Johnny Jump Up +*S
Dam:
SF Smilla's Sense of Snow *D
Dam:
ARMCH Gay-Mor's Magic Naiad 5*D E
Sire:
ARMCH Munchranch Magic Marker +S 90 Excellent
Sire:
Munchranch Phantom
Dam:
MCH Willow Creek Livid 90.8
Dam:
Gay-Mor RA Midge 4*D
Sire:


Stonewall's Raising Arizona ++S

Dam:
Gay-Mor Kneehi Toa Grasshopper

Dam:
Gay-Mor's Blue Looney Meg Ryan 2*D AR1678 EEEE "91"

Sire:
Gay-Mor's T Blue Looneytoons ++*S

Sire:
MCH Piddlin Acres Blue Thunder +*S
Sire:
MCH Glady Porters Zoo Ali's Tex
Dam:
Woodhaven Farms Moondancer *D E
Dam:
Piddlin Acres Alley Oops *D
Sire:
Jobi Toledo +*S
Dam:
MCH Piddlin Acres Diamond Deb 'E'
Dam:
Munchranch East Nellie Backata *D E AR1553
Sire:
Woodhaven Farms Hakuna Matata
Sire:
Storybook Domino
Dam:
Woodhaven Farms Snow White Doe
Dam:
Woodhaven Farms PJ
Sire:
Storybook Mali
Dam:
Woodhaven Farms Tootsie
| | | | |
| --- | --- | --- | --- |
| Date | Show | Judge | Placed |
| 06/05/10 | PDGA Summer in the Mountains | Kay Kimmel | 1st |
| 06/05/10 | PDGA Summer in the Mountains | Kay Kimmel | Grand Champion |
| 05/14/11 | SCDGA Classic | David Funk | 2nd |
| 05/14/11 | SCDGA Classic | Will Pearson | 1st |
| 05/14/11 | SCDGA Classic | Will Pearson | Grand Champion |
| 05/14/11 | SCDGA Classic | Will Pearson | Best of Breed |
| 05/14/11 | SCDGA Classic | Will Pearson | Best Buck in Show |
| 06/05/11 | Small Animal Producers | Jean Lucas | 1st |
| 06/05/11 | Small Animal Producers | Jean Lucas | Grand Champion |
| 06/05/11 | Small Animal Producers | Jean Lucas | Best Buck in Show |
Some of Meg Ryan's daughters:
Sugar Creek PG Jane Seymour
Deb's Whisperwoods PG Vanna White
Deb's Whisperwoods PG Vera Miles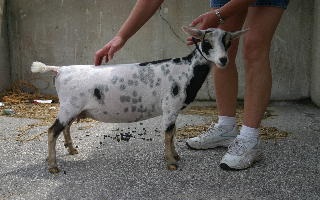 photo courtesy Olson Acres